Rossford Dome
The Soccer Centre Dome Rossford facility is over 94,000sq ft and boasts an enormous turf field. Our field can be divided to support a full 11v11 field, two 9v9 fields, or four 7v7 fields. We also have a 75yrd by 21yrd training space available for rental. Our facility is equipped with restrooms, drinking fountains, a concessions trailer, and a wide assortment of soccer equipment. During the 2017 Season we added full length batting cages complete with "L" screens to meet all of your baseball and softball needs. Finally, we have recently partnered with Athlete HQ which offers a wide assortment of sports training and personal training sessions.
The Rossford Dome features the following:
94,000 Sq. Ft
Bathrooms
Consessions Trailer
Giant Turf field with Soccer Goals
Batting Cages
Session 1 (6 games)
Nov. - Dec. 2018
Leagues
Cost/Team
Deposit
Session 2 (8 games)
Jan. - Mar. 2019
Leagues
Cost/Team
Deposit
Session 1 & 2 (14 games)
Nov. - Mar. 2019
**Take advantage of this offer and get 14 games for the price of 10!**
Leagues
Cost/Team
Deposit
9v9
$1200(save $300)
$400
11v11
$2100(save $400)
$400
Adult Leagues (6 games per session)
Includes Mens Open, Mens 30+, and Coed Open
Jan. - Mar. 2019
Session
Registration Deadline
Session 1: Nov-Dec 2018
Nov. 11th
Session 2: Jan-Feb 2019
Dec. 23rd
Session 3: Mar-Apr 2019
Feb. 25th
Team Fee: $600/session
Deposit: $200
Field Rentals and advertising opportunities are available.
Click here for map and directions
10 reasons to play at Rossford Soccer Centre Dome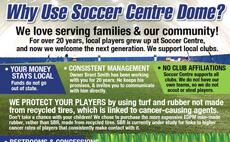 Click to enlarge